The leadership of Quara Devices, Rod Reum, Executive Chairman, Ken Reardon Ph.D., CSO, and Steven Eror, CEO revealed more about their ongoing work developing an exciting new weapon to help in the fight against superbugs. These bacteria, with their resistance to several antibiotics, have become more prevalent risks for humans and animals. Quara Devices™ is the company behind QuaraSense™, a front-line scientific instrument that detects bacteria, including superbugs, with dynamic new technology.
Here is the power of their argument.
QuaraSense detects biochemical signals released by infectious bacteria at the point of virulence, and does this instantaneously, instead of waiting days as required by current tests.
Outsmarting Current Approaches
Before QuaraSense, finding infectious bacteria required an old and time-consuming process: collect a sample that might contain bacteria, spread it on an agar plate, and wait a few days to see what grows on that plate.
In humans, an infection may trigger sepsis, and the situation can go from treatable to a life-threatening medical emergency in hours. Without timely treatment, sepsis can lead to tissue damage, organ failure and death. Waiting for cultures to grow before beginning treatment is risking death and is simply not acceptable.
A newer approach requires a highly skilled professional to take a sample of the bacteria and to make copies of a special part of the bacterial DNA. When care is taken to avoid sampling error, as the sample must contain the suspect bacteria, the procedure identifies type of bacteria are present in the sample, and, in some cases, to predict whether the sampled bacteria are resistant to antibiotics. However, DNA testing is expensive and requires considerable expertise. Also, the testing only identifies the bacteria for which it has been designed, and others will remain undetected.
The QuaraSense Solution
According to Dr. Reardon, "The focal point of advanced product research now is to detect the presence of bacterial infections as quickly as possible, whether it's in people, pets, livestock, or anywhere else such as in aquaculture. We need to identify the problem as quickly as possible, so effective actions can manage or eliminate the infection. The sooner infections are detected, the more likely we are to kill the bacteria with a minimal dose of antibiotics. QuaraSense may also validate the effectiveness of antibiotics."
Rod Reum adds that "QuaraSense is a device that takes a sample of the bacteria from a person or an animal and analyzes it quickly. The readout will tell us in minutes whether or not infectious bacteria are present because it detects a signal released by the bacteria into its environment when they are in an infectious state."
Early Results
The QuaraSense prototype has been developed and tested. The Company is currently ramping up for broad commercialization in a number of key vertical markets. Dr. Reardon says, "We understand the range of detection for signaling molecules". The Company's testing has already shown phenomenal detection abilities by using this device.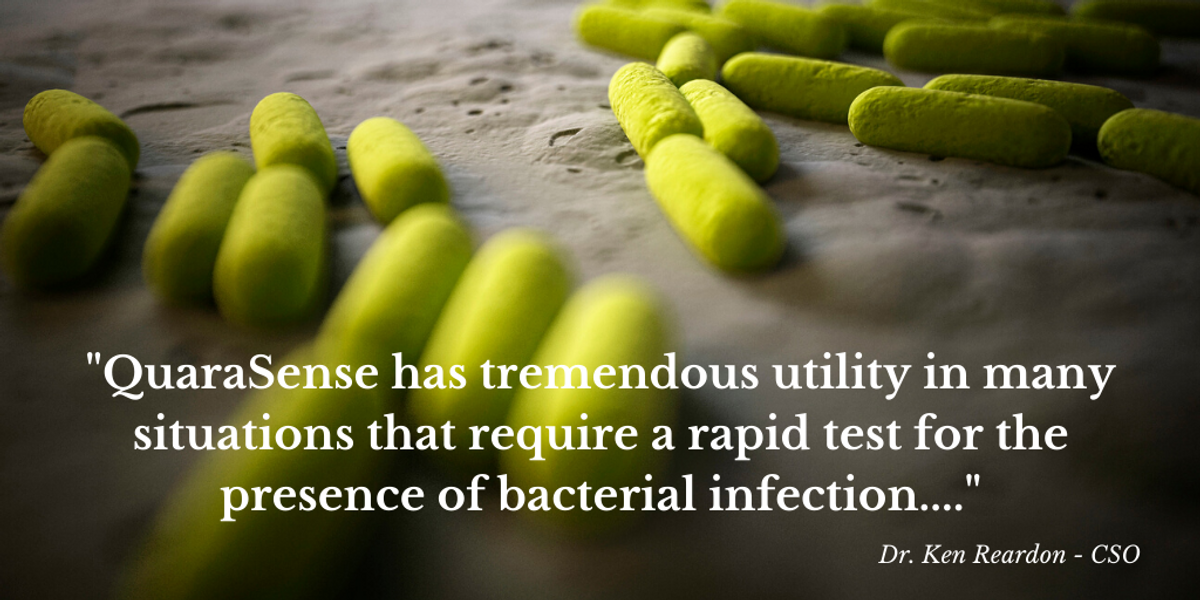 QuaraSense can be non-invasive and in humans only requires a urine sample or a saliva sample.
Dr. Reardon explains the value of this kind of testing, "One of the significant areas where this kind of approach could benefit immediately is livestock health management. Livestock owners currently deliver antibiotics proactively to their livestock, whether they have infections or not. It will now be possible to check the livestock for infections, and then make a treatment decision based on very early evidence of infection. The whole process is simple and cost effective. In addition, responsive dosing of antibiotics, as compared with prophylactic dosing, reduces the likelihood of bacterial mutation and the development of resistance."
Superbugs
The overuse of antibiotics is the main reason that superbugs have emerged as a new threat. Superbugs are bacteria that have developed resistance to several traditional antibiotics, rendering those drugs ineffective. According to the CDC, 2.8 million antibiotic-resistant infections occur in the U.S. each year, and more than 35,000 people die as a result. Eighteen new superbugs have been confirmed to have developed resistance to several traditional antibiotics, rendering those drugs ineffective. By using a device like QuaraSense, that detects bacterial infections quickly, treatment can begin sooner, and antibiotic dosing may be tailored to the infection rather than the potential of infection. QuaraSense has made it simple to re-test shortly after the treatment begins, providing rapid feedback on whether the prescribed antibiotic is having an effect. This ensures faster patient recovery, fewer side effects and helps slow the development of additional superbugs.
"The goal of Quara Devices is to commercialize our technology for broad distribution in human, animal, and aquaculture vertical markets," says Quara's CEO, Steven Eror. He continues, "The Quara technology works, and we are preparing to launch.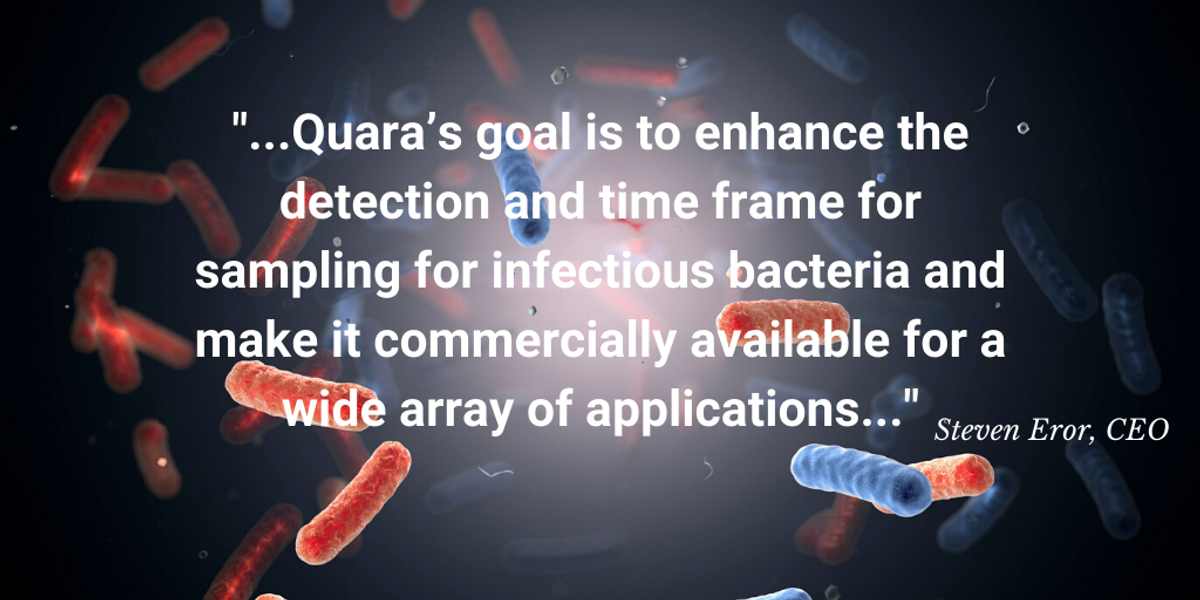 "As we roll out Quara technology globally, a great many other markets will be able to conduct this testing, helping limit the unbridled use of antibiotics driving that drive bacterial mutation." Millions of people have bacterial infections every year and suffer until an effective treatment program begins. Early detection means early healing."
Going Forward
Steve Eror stands by his team's research and development work, "It is definitely sound science, and QuaraSense will function as intended. Soon, we plan to produce a QuaraSense device that is even smaller, more portable, and cost effective. That coupled with extraordinary performance will make it the choice for the vast numbers of organizations and individuals who need to know when an infection is present." This will allow QuaraSense to be taken to any location, be it a fish farm, a medical clinic, or the home, anywhere infectious bacteria thrive.
Bottom-line Benefits
Dr. Reardon explains, "Probably the biggest single benefit of this rapid testing for infectious bacteria is that it can be done much more quickly and inexpensively than any other approach, so it will be known whether a dangerous bacterial infection is present at the very earliest opportunity. QuaraSense offers timely and accurate measurement of infectious bacteria, which is crucial for any treatment plan."
In the medical field, for instance, it might take days to determine the presence of a virulent strain of bacteria. By using this detection device, the presence of any virulent bacteria can be determined in just a few minutes. This gains an enormous amount of time to develop a plan of action for some program of treatment. The device is also a game-changer in agriculture and aquaculture.
Disclosures
THE COMPANY HAS NOT COMMENCED ITS PLANNED OFFERING UNDER REGULATION A OF THE SECURITIES ACT. NO MONEY OR OTHER CONSIDERATION IS BEING SOLICITED FOR THAT PLANNED OFFERING, AND IF SENT IN RESPONSE, WILL NOT BE ACCEPTED. NO OFFER TO BUY THE SECURITIES CAN BE ACCEPTED AND NO PART OF THE PURCHASE PRICE CAN BE RECEIVED UNTIL THE OFFERING STATEMENT FILED BY THE COMPANY WITH THE SEC HAS BEEN QUALIFIED BY THE SEC. ANY SUCH OFFER MAY BE WITHDRAWN OR REVOKED, WITHOUT OBLIGATION OR COMMITMENT OF ANY KIND, AT ANY TIME BEFORE NOTICE OF ACCEPTANCE GIVEN AFTER THE DATE OF QUALIFICATION. AN INDICATION OF INTEREST INVOLVES NO OBLIGATION OR COMMITMENT OF ANY KIND.